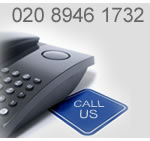 Call us now on 020 89461732
---
Contact us
Contacting us is easy. Simply use one of the following to get in touch and we will get back to you as soon as we can.
Address:
Corrigan & Aram
378 Garratt Lane
London
SW18 4HP
Telephone: 020 89461732
Fax: 020 89461742
Email:
Map:
Alternatively, use the form below to email us.
Partners: Michael Corrigan FCCA, Roya Aram FCCA
VAT No. 437182350
Memberships: ACCA
---
---